Mai 2018
| Lun | Mar | Mer | Jeu | Ven | Sam | Dim |
| --- | --- | --- | --- | --- | --- | --- |
| | 1 | 2 | 3 | 4 | 5 | 6 |
| 7 | 8 | 9 | 10 | 11 | 12 | 13 |
| 14 | 15 | 16 | 17 | 18 | 19 | 20 |
| 21 | 22 | 23 | 24 | 25 | 26 | 27 |
| 28 | 29 | 30 | 31 | | | |
Calendrier


http://media.wizards.com/2015/images/daily/C15_Logo_ENG.png
Choose your commander for this unique multiplayer Magic format. New cards offer new play options, and experience counters will make your commander grow in power during the course of each game. Two-color decks allow for surprising synergies and opportunities to devastate your foes.
The set will feature five two-color—enemy pair—100-card Commander decks, along with 55 new Magic cards legal in Eternal formats (Vintage and Legacy), but not legal in Standard, Block Constructed, or Modern. Each deck will contain fifteen new cards.
Cards from Magic: The Gathering—Commander (2015) will be featured and distributed with a new event offering on Magic Online—the Legendary Cube! For more on the Legendary Cube, see the announcement also posted today.
Release Date: November 13, 2015
Three-Letter Abbreviation: C15
Twitter Hashtag: #MTGC15
MSRP: $34.99 (per deck)
Languages: English, Japanese, French, Italian, German, Spanish, and Chinese Simplified
Initial Concept and Game Design: Dan Emmons (lead), Kelly Digges, Ethan Fleischer, James Hata, and Chris Tulach
Final Game Design & Development: Ben Hayes (lead), Kelly Digges, Mark Globus, Shawn Main, and James Sooy, with contributions from Matt Tabak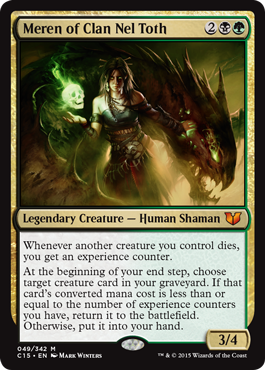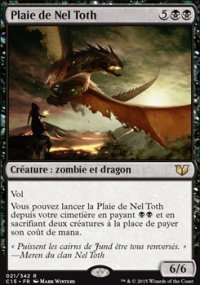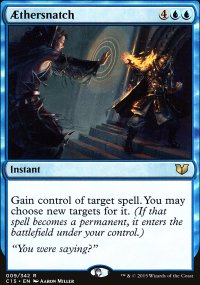 soit Aethersnatch
Instant
Gain control of target spell. You may choose new targets for that spell. If that spell is a permanent, that permanent enters the battlefield under your control.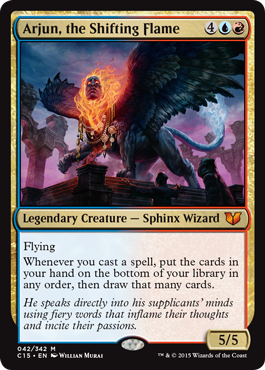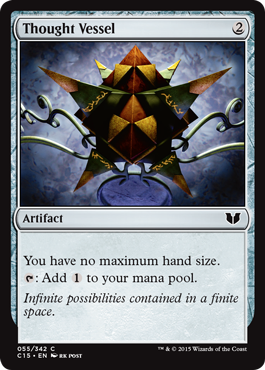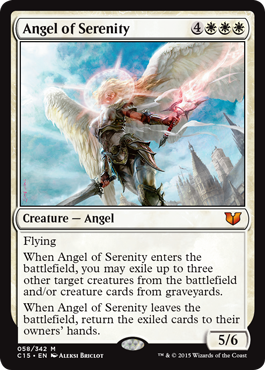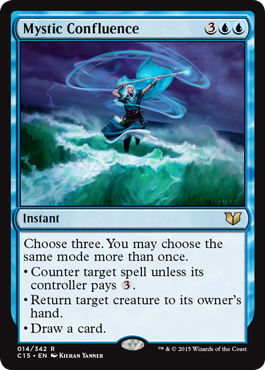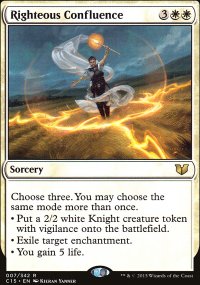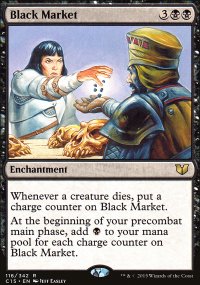 soit Marché noir
Enchantement
À chaque fois qu'une créature meurt, mettez un marqueur "charge" sur le Marché noir.
Au début de votre phase principale avant le combat, ajoutez %B à votre réserve pour chaque marqueur "charge" sur le Marché noir.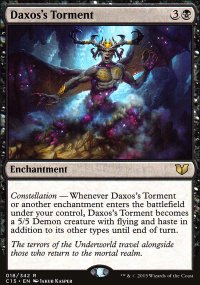 soit
[Daxos's Torment] Traduction non disponible
Enchantement
Constellation — À chaque fois que Daxos's Torment ou qu'un autre enchantement arrive sur le champ de bataille sous votre contrôle, Daxos's Torment devient une créature 5/5 Demon avec le vol et la célérité en plus de ses autres types jusqu'à la fin du tour.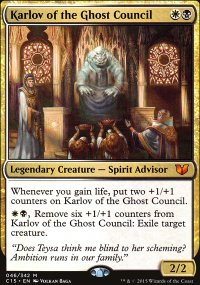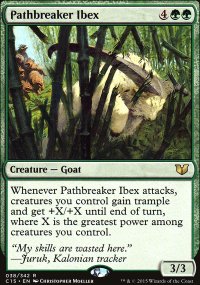 http://magic-ville.com/pics/pfou/15c/017.jpg
soit
Corpse Augur Traduction non disponible
Créature : zombie et sorcier
Quand Corpse Augur meurt, vous piochez X cartes et vous perdez X points de vie, X étant égal au nombre de cartes de créature dans le cimetière du joueur ciblé.

---
Permission de ce forum:
Vous
ne pouvez pas
répondre aux sujets dans ce forum